ServerSentinel
Flexible and Reliable Server and Network Monitoring
ServerSentinel & USB Switchable Power Socket
Switch devices on or off in Case of Failure
With the help of a switchable USB socket, any device can be switched on or off by an action in ServerSentinel. ServerSentinel can, for instance, turn on additional ventilation supplies when a certain system temperature has exceeded its limit. The particular switching status is displayed via LED.
Examples of use
Controlling fans or air conditioning in combination with the USB Temperature Sensor
Turning highly visible signals on and off to indicate critical situations.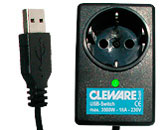 Features
PC-controlled main switch with switchable socket (please note: A German socket ("Schuko") is located at the top of the socket. It will also accept EURO plugs.)
Device specifications

Switches 230V / 16 A, max. 3,500 W
(single phase motor rating max. 550 W) using reliable Finder relay
USB device with 1.80 m cable
RoHS, CE & EN60950 conform/ IP20
For indoor use only, protect against humidity
Permissible operating temperature range: 10° - 60° Celsius

Existing USB drivers are sufficient, no separate drivers need to be installed
PC programs may fail or may be interfered through other programs. Don't connect devices to the USB socket that may cause harm if the switch turns on unexpected.
Purchase the USB Switchable Power Socket in the cleware shop.