ServerSentinel
Flexible and Reliable Server and Network Monitoring
Monitor IT Systems
Create Rule-Based Alerts
Analyze Collected Data to Prevent System Failure
3 Steps to IT System Monitoring
ServerSentinel enables versatile and reliable monitoring of your server and network services as well as of local resources. The software processes data collected by various sensors and uses rule-based alerts to inform you on failures or irregularities. Analyze the stored data and make sure to prevent future system failure.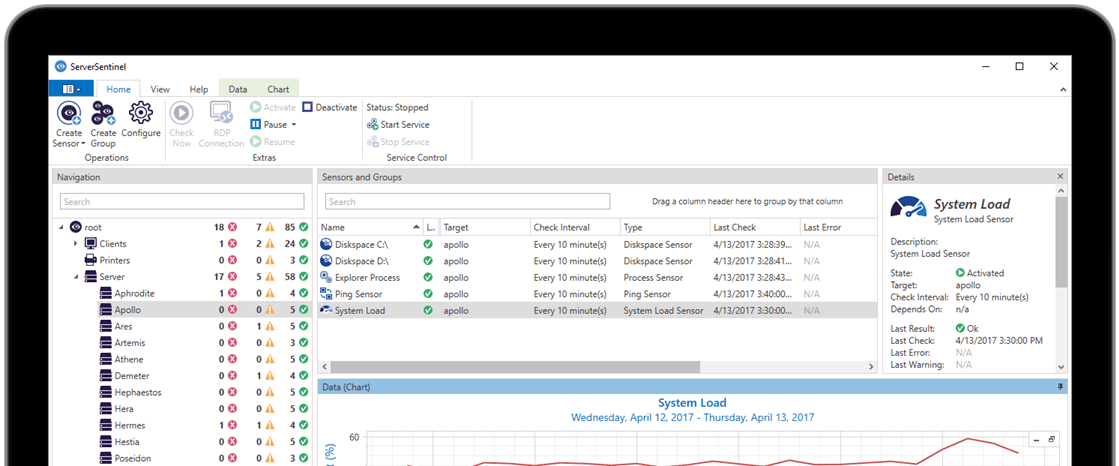 1. Define Use Cases
What do you want to monitor? Networks, servers or the availability of your web shop?
2. Set up Sensors
Select and configure your sensors. We offer a variety of flexible sensors to support your use cases.
3. Choose Actions
Do you prefer a warning message or immediate interaction between systems? Choose actions and define your rules.
Different Versions for Different Requirements

ServerSentinel
Small Business Edition
Unlimited Number of Sensors - 50 Included

ServerSentinel
Enterprise Edition
Unlimited Number of Sensors - 50 Included
* SNMP Request Sensor and SNMP Trap Sensor are available in the Enterprise Edition only.
More Information and Documents
Find comprehensive documentation to help you start working with ServerSentinel as quickly as possible.