Launch of our new server landscape
The JAM server landscape has been upgraded and has become even faster and more secure.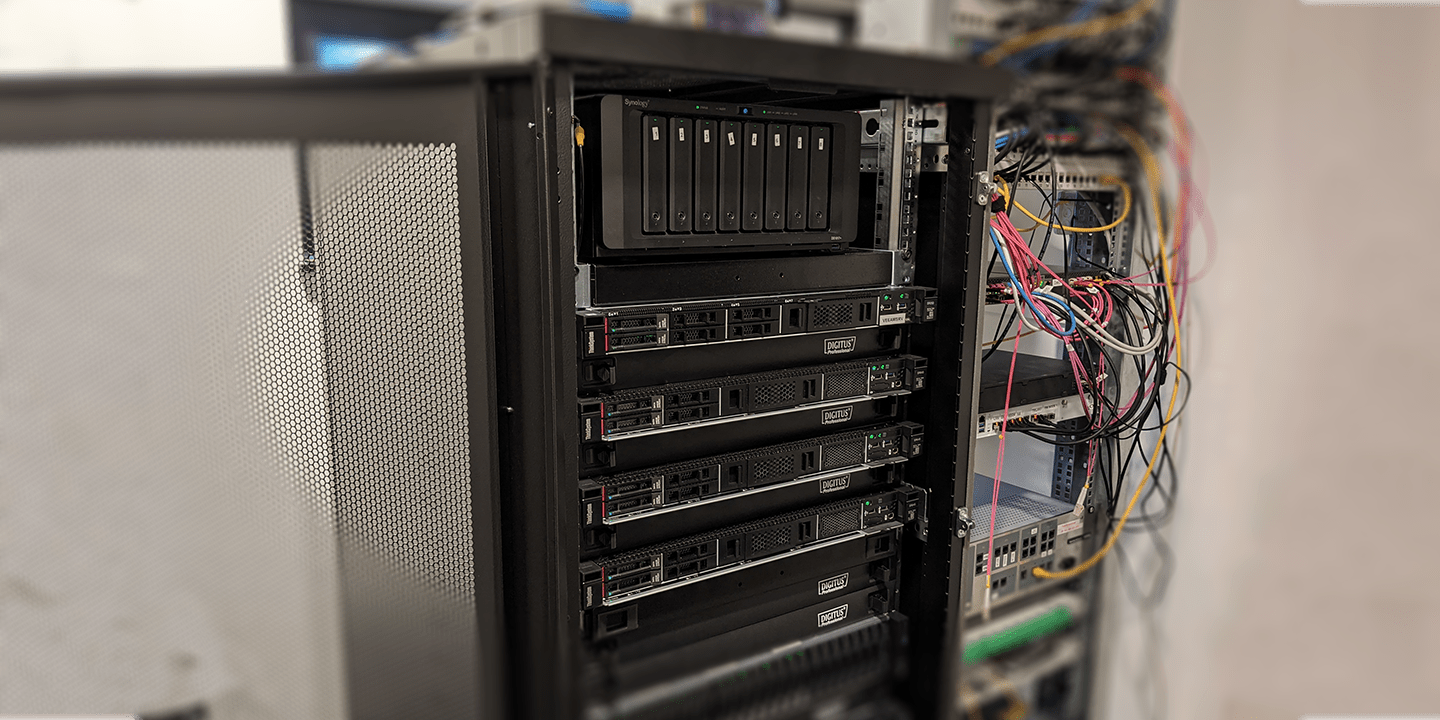 It's all brand-new! We gave our server landscape a major upgrade last year. Not only did we improve our server performance, but also our disaster recovery concept.
Today I'm talking to our IT admin team about the important things that went into implementing this project and how it was successfully completed. Raimund and Mathias, as well as our two admin trainees Philipp and Alex, will show me all the changes that have taken place.
Challenge of the changeover
Any beginning is difficult. That's why it's so important to first thoroughly analyze the initial situation in order to become aware of the various problem areas and obstacles.
"Actually, the trigger for the redesign of the server landscape was a very tangible problem" says Mathias. "The maintenance of our old servers had expired and their end-of-life limit had also been reached. We weren't initially planning to restructure our entire system at all. As we started to dig deeper into it, we noticed more and more issue areas that came up. For example, sticking with the same vendor would have been disproportionately expensive for our use case."
Raimund picks up on this point and continues: "At that point, we had also been dissatisfied with the performance of our old Hyper-V cluster for some time. Restarting individual servers always took quite a long time, and updating nodes was an enormous manual effort. There was always the risk that the productive disk cluster would suddenly stop working. This is a big problem, because at JAM we use dozens of virtual machines in development and product presentation. In terms of hardware, you could also say that everything was at its limit here. We really wanted to reduce the downtime of the servers and thus the resource bottlenecks. Also to improve our ability to subsequently monitor our systems with our own software."
I am wondering whether there were also security risks with the old equipment, in addition to the many difficulties around performance. But Raimund, the team leader of our IT admins, can negate that: "We've had a completely closed system before, just like we do today. It was only accessible internally at all times. The performance, as described, was the real problem, and we set ourselves the goal of not having to worry about it for five years after the project was completed."
That's how we solved our performance problems
The system had to be changed, there was quick agreement among our IT admins. At first, they switched providers to save costs, Mathias explains: "Because the old servers had to be replaced anyway, we moved to a local provider after budgeting and will be using Lenovo from now on. We think Lenovo's price-performance ratio fits our company size well - that's why we've been using Lenovo laptops as workstations for a few years now."
"But that wasn't the only move," adds Raimund. "We also changed the platform for our virtual environment. VMware offers an attractive licensing proposition for midsize companies and is a good alternative to Hyper-V for us." VMware actually provides more features, especially when it comes to automation.
Mathias (l.) and Raimund (r.) presenting our brand new server rack in action.
I accompany Raimund and Mathias into our newly structured server room. My first impression is that there is significantly more space to work with now. In fact, it looks much tidier than it did before. "We dismantled the old rack step by step and have already set up the new one behind it. Philipp and Alex have been a great help to us in this. Then we moved the productive system from the Hyper-V environment to the new VMware environment and pulled the new server rack up to the front. The colleagues didn't notice any of this during their work."
Alex (l.) and Philipp (r.) have been training to become IT specialists for system integration at JAM since 2021 and are lending a hand in the admin team.
Raimund unlocks the server rack and opens the large cabinet door: "The new rack is now completely lockable, as you can see. While rebuilding, we simultaneously replaced all the old copper cables for the internal network connection with fiber optics."
"But much more important, of course, is what has changed in the entire storage concept," says Raimund. "From now on, we are relying on SAN - that' s a storage area network. It''s basically a network for connecting hard disk subsystems. We bundle all the hard disks centrally into a single storage system. Before, each server had its own storage, which were all still rotating disks."
With our SAN, we now add new storage as needed. The server rack is also fully lockable.
"Now everything is running on SSD disks and is ultra-fast. These days, if a hard disk fails, the system reacts immediately and reallocates the available storage space accordingly. Server hardware upgrades are no longer a problem. The servers can be extended with CPU and memory. In the SAN system, the disk capacity can also be expanded."
Our result: Increased backup performance and lightning-fast instant recovery
Now let's take a look at the results. Raimund explains that we can clearly measure improvements in the performance of backups in particular. "We have a cold storage for our backups, which we call Blob Storage. This is encrypted object storage that scales very well."
"Thanks to the new SAN, we can now not only use SpaceObServer to conveniently monitor our Azure cloud and file servers. Our new SAN also helps us as part of our disaster recovery concept to load in a restore from our Azure Cloud much faster," Raimund continued. "VMware and VEEAM are integrated faster. That helps us in an emergency, assuming our on-premises systems suddenly fail because there's a fire in the company. Basically, an instant recovery only takes a few moments now. Within ten seconds, our entire server is back. And thanks to the encryption, it's also DSGVO-compliant at the same time. Now we are perfectly equipped."
Thanks to our Blob Storage, the JAM server landscape is well equipped for emergencies - and it's also churning nicely.
"The renewal of our hardware in conjunction with the switch to VMware also increases the performance and handling of our VMs enormously," says Mathias, who is responsible for the organization of virtual machines at JAM. "Updating nodes is now completely automatic with VMware and also only takes a few minutes. All that's really missing now is to finally move our virtual test environments. We will do so in one go and have already written detailed documentation for our JAMers so that they can get started right away."
JAM is now well equipped for the future
So let's wrap up here. We at JAM undertook a comprehensive restructuring of our server landscape over the past year. Besides the switch to SAN and VMware, we also modified our disaster recovery concept so that an instant recovery only takes a few moments in the event of an emergency.
Many thanks to Raimund, Mathias, Philipp, Alex and the rest of the admin team for the interesting insights! We are curious for the upcoming year with our brand-new equipment.