ShellBrowser WPF Components
Native Explorer Shell Controls for WPF
Directly Include Windows Shell Functionalities Into Your WPF App
Access, Edit, and Add Features Known From Windows Explorer
Royalty Free, No Runtime Fees
Flexible, Customizable, Deceptively Real
With ShellBrowser WPF Components you can access, edit, and add features known from the Windows Explorer to your WPF app. The components are written in C# but can be used with other .NET languages and contain the most important visual components to quickly build custom dialogs or integrate Explorer-like functionality in your application.
ShellBrowser WPF Components are compatible with all current versions of Windows (32-bit and 64-bit) and Visual Studio. Learn more in the extended compatibility overview.
Royalty free, involve no runtime fees.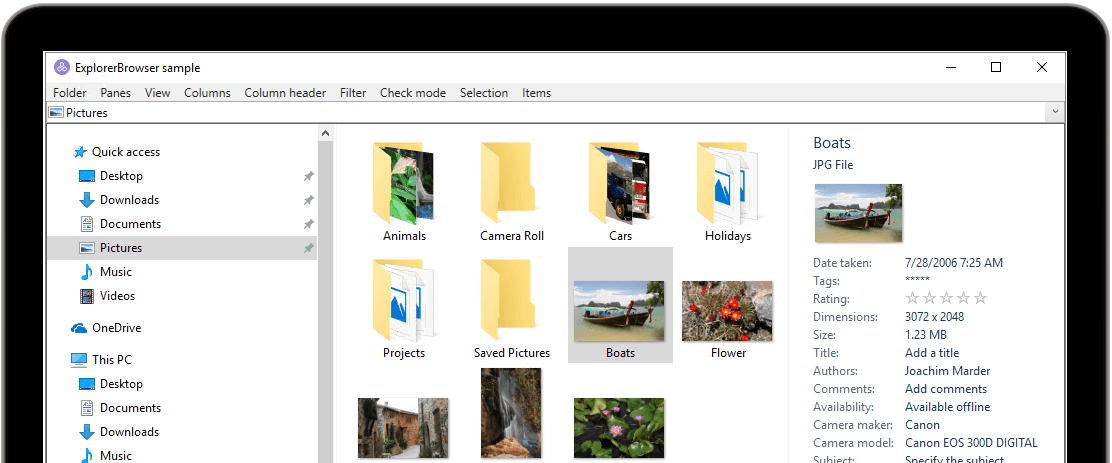 Easy to Use
Visual Components speed up development and make your job much easier.
Various Use Cases
ShellBrowser contains the controls you need for any WPF project you are working on.
Highly Customizable
You can easily control look and behavior and quickly build custom dialogs.
Sample Projects
Would you like to know how best to use ShellBrowser WPF Components? Have a look at our sample projects! They are included in all licenses of ShellBrowser WPF Components, and are also part of the evaluation copy.
More Information and Documents
Find more detailed information about ShellBrowser WPF Components and how they can help you to enhance your own WPF applications! 

ShellBrowser Delphi
The ShellBrowser WPF Components are also available as native VCL version for Borland Delphi and C++ Builder version. The components are royalty free and involve no runtime fees.

Discover Our ShellBrowser Delphi Components!