All in one with the Exchange Server Toolbox
Archive, spam and virus protection, rule set for on-premise and Microsoft 365 accounts.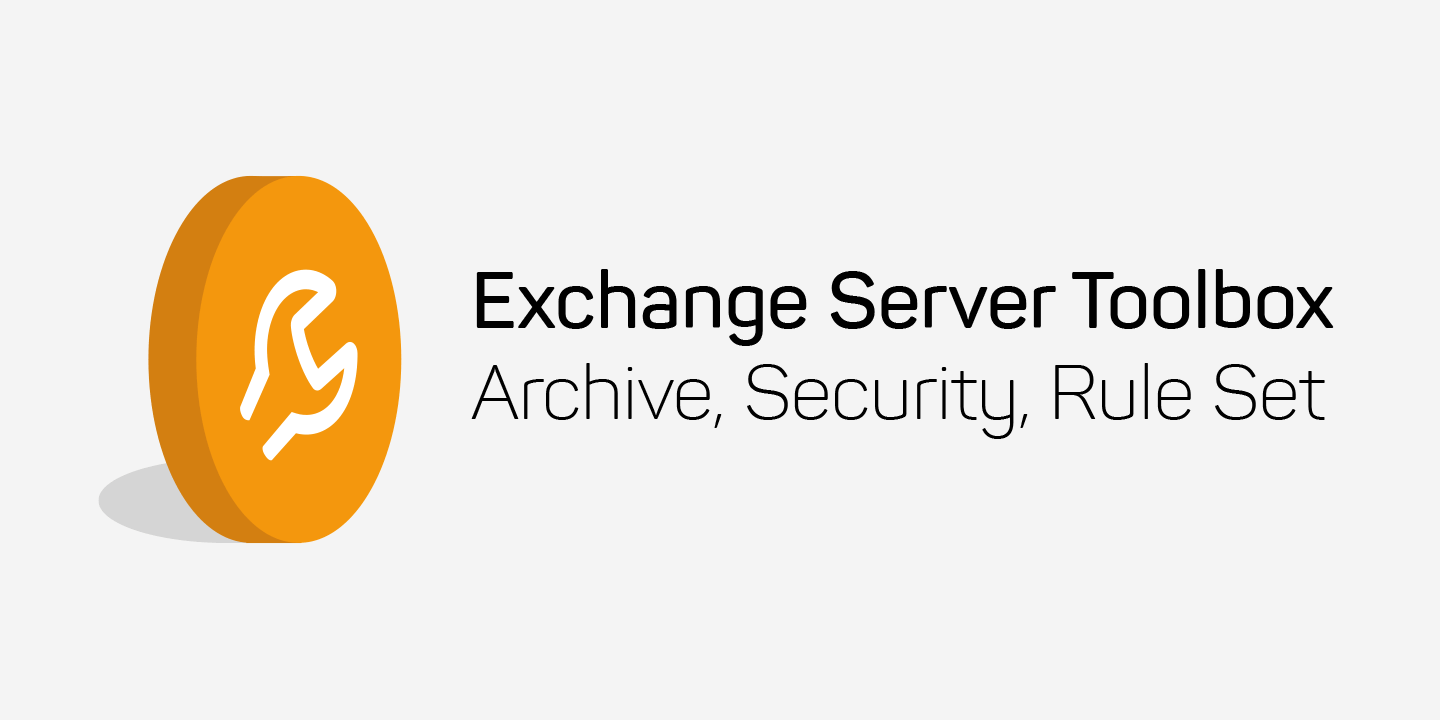 Microsoft 365 is taking an increasingly prominent position in the everyday work of many companies. The productivity service previously known as Office 365 not only provides space for video calls with colleagues, and group chats, but also serves as a tool for collaborative work on business documents. So all that is needed for a home office-suitable infrastructure in particular.
To no surprise, more and more customers are asking for the necessary Microsoft 365 accounts. But what about the customers who do not want to and will not move to the cloud due to data security concerns or even internal policies? Data and cost security are important pillars of sustainable business. With our Exchange Server Toolbox, we offer an archive, a professional rule set and spam and virus protection for Microsoft 365 accounts in combination with an on-premise Exchange Server and thus combine both requirements.
All emails via on-premise Exchange - even with Microsoft 365 accounts
Continue to manage your own server infrastructure on-premise, independent of the cloud provider, while still retaining the ability to use Microsoft 365 accounts with mailboxes in the cloud for individual employees. In addition, dedicated, local email archiving, a flexible rule system and additional spam and virus protection. These are the goals we are pursuing with our Exchange Server Toolbox.
Prerequisite for the use of Exchange Server Toolbox in conjunction with Microsoft 365 accounts is a Microsoft Exchange Server on-premise. An established hybrid deployment on the Exchange Server and in the Microsoft 365 cloud is required as well. Connecting is also possible when specifically configured connectors and rules replace a classic hybrid deployment.
Through the centralized email transport of the Microsoft 365 cloud, different variations of hybrid operation can be configured. The main difference between these variants is which system will accept incoming emails originating from the internet and will deliver emails to external recipients. We define three cases:
If Microsoft 365 Cloud accepts all incoming emails from the internet, these will also be sent to the on-premise Exchange Server via hybrid provisioning and will there be processed by the Exchange Server Toolbox.

In contrast, if all incoming emails from the internet are received by the Exchange Server on-premise, our Exchange Server Toolbox will process them locally. Exchange subsequently delivers the emails addressed to cloud mailboxes to the Microsoft 365 cloud per hybrid deployment.

If the central email transport is configured to send all outgoing emails out via the Microsoft 365 cloud, emails sent from cloud mailboxes to external recipients can also be routed via the on-premise Exchange Server - this in turn allows the emails to be processed using the Exchange Server Toolbox.
In all cases, the Exchange Server Toolbox is involved in the processing of e-mails coming in from or going out to external recipients. Emails can be archived professionally and GoBD-compliant if required.
The advantages of the Exchange Server Toolbox for resellers and end customers
The principle of the Exchange Server Toolbox as an archive solution, rule set and security for the local Exchange and the Microsoft 365 cloud has proven itself with many of our customers. This offers the advantage not only of being able to continue to manage the company's data autonomously via its own server infrastructure and thus retain data sovereignty. The greater cost security also has an impact here: the local Exchange makes it possible to remain independent of Microsoft's pricing models for its cloud services. If you continue to host your server systems locally, costs are much more in your own control.
Our resellers often handle the professional setup of the Exchange Server Toolbox on their customers' local server system or host the Microsoft Exchange Server for customers on their own system. In any case, with the Exchange Server Toolbox, our resellers can offer their customers not only the Microsoft 365 tools, but also an inexpensive email archive, professional spam and virus protection, and a flexible set of rules for email processing.
That was alot of information, so let's recap. Just because you want to keep your on-premise infrastructure doesn't mean you have to give up Microsoft 365 accounts. Conversely, just because you want to take advantage of Microsoft 365 accounts in your business doesn't mean you have to give up your data sovereignty through on-premise IT infrastructure. The Exchange Server Toolbox can act as a clever connector between on-premise systems and the Microsoft Cloud. Thus, the company's own data management remains not only independent of third parties, but also well organized and free of spam and viruses.