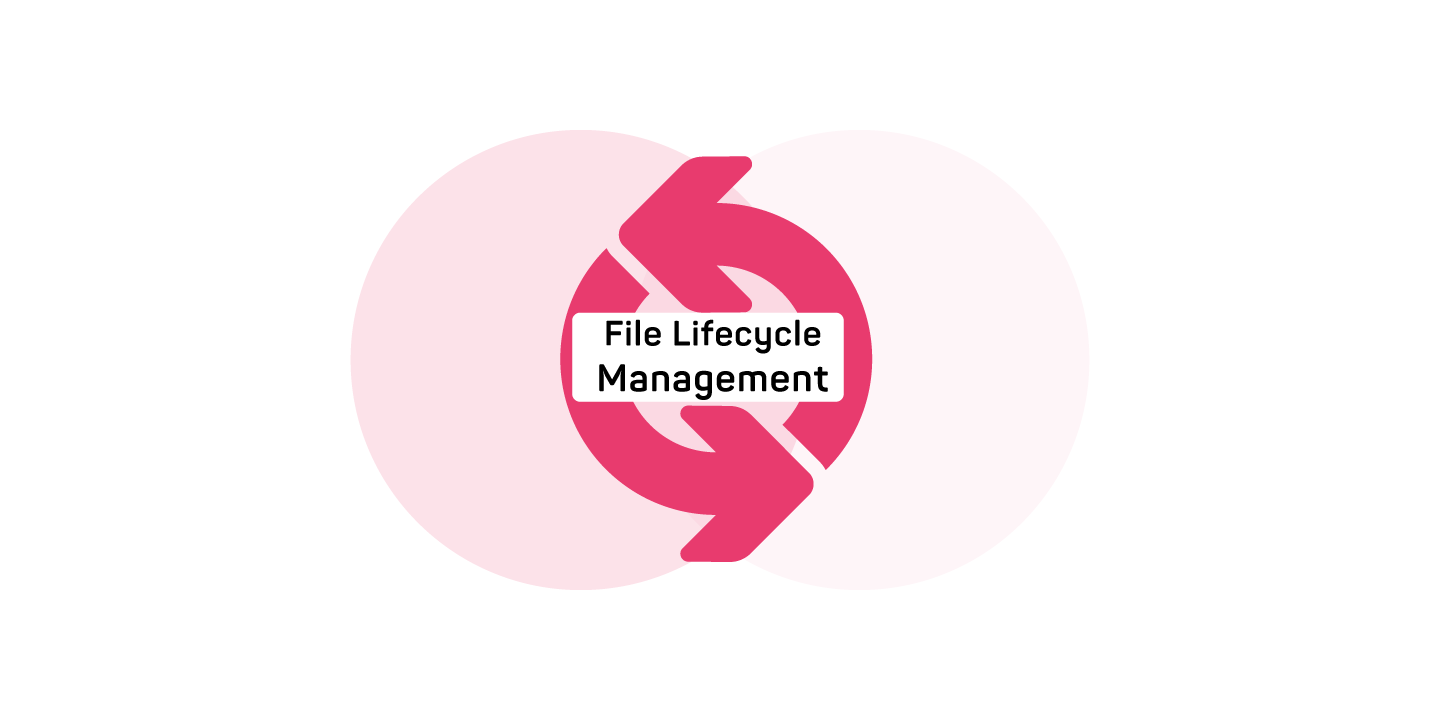 How To File Lifecycle Management
Accompany the lifecycle of files with SpaceObServer easily
11.10.2022
Data storage is an important topic for companies. Above all in terms of compliance, but also for very simple reasons of storage space requirements.
A human resources department must ensure that application documents are deleted on time. And outdated project files also waste a lot of space. This is where a File Lifecycle Management solution can help.
File Lifecycle Management means accompanying a file through the various stages of its lifecycle. The method facilitates the data management enormously, because with it one can:
Set rules for the lifetime of a file

Automatically archive or delete files

Document and log the lifecycle of a file
With the "File Lifetime" feature, we make simple File Lifecycle Management possible directly in SpaceObServer.
Accompanying the lifecycle of files for more compliance
Especially with the gigantic amounts of data that accumulate in a company over time, manual cleanup is hardly possible anymore.
At the same time, companies have to comply with many regulations. For example, when it comes to personal data, the General Data Protection Regulation (GDPR) makes clear specifications: For the retention period should be a maximum of 6 months.
If an employment relationship is established, all data that is irrelevant to the performance of the job must be removed. If applicants are rejected, the data must even be deleted completely. The data protection authority can levy a hefty fine if a company fails to comply with this obligation.
With File Lifecycle Management, administrators can directly assign an expiration date to application documents. SpaceObServer checks within its regular scans if the maximum lifetime of a file has been reached and can delete critical documents automatically.
How to do this exactly, we show in our step-by-step guide!
Set maximum lifetime for files
Let's take a closer look at the process. As mentioned earlier, the prerequisite for using File Lifetime is to set up a regular server scan.
Once the scan is created, open the scan settings and add a new post-scan action here.
In the post-scan actions, various tasks can be defined that are to run automatically after a scan - for example, an export of scan results.
The "File lifetime" setting can also be found here.
Setting up a maximum lifetime for files follows a simple logic in SpaceObServer where you have to answer three questions:
How long should the files exist at maximum?

Which files should be affected by this rule?

What exactly should happen when the lifetime has expired?
1 Define maximum file lifetime
We define the maximum lifetime at the very top with an integer. We can choose from the time periods days(s), week(s), month(s) or year(s). In our example, we want to delete all application files older than 6 months.
2 Define affected files
Now we need to specify which files should be affected by the rule. This can be done very precisely thanks to the powerful filter function of SpaceObServer.
The most common format for applications and resumes is PDF. So let's create a filter that affects all PDF documents in the "Applications" subfolder on the Human Resources file server (\\DataServer\staff\applications).
Now the rule only affects the correct files.
3 Delete old files automatically
Finally, we define what should happen with the application files after the 6 months have expired. For this purpose, there are several different file operations available in SpaceObServer.
In this example, let's decide to delete the documents. Conveniently, in the other options you can directly set that empty folders are also deleted directly after the process is completed.
We also recommend that you record a location for logging the deletion process. This helps to keep track of exactly what was removed and when.
Now just confirm with "Ok". The setup is finished. SpaceObServer will now execute the process automatically after each scan according to your schedule.
Archive files automatically and save money
In addition to making provisions for better compliance, file lifecycle management can also help free up expensive storage space.
If it's not small PDFs like in an application process, but larger files like in a 3D modeling project, for example, it can add up to quite a bit of storage space.
Especially if you rely on the cloud, it then quickly becomes expensive. But purely for budget reasons, relevant project folders can of course not be deleted.
In this case, we recommend archiving old files. To do this, we move large project files out of the cloud to a cheaper location after a set period of time. For example, nearline storage or even cheaper archive storage can be used. This way, we don't have to delete any relevant data and save valuable storage space at the same time.
So, as usual, let's set a maximum lifetime for the corresponding project files and then select "Move items" in the file operations. Here, we can specify in the options exactly to which destination the files should be moved.
Besides, it is also possible to set exactly what should happen to already existing files, whether empty folders should be deleted afterwards, from which level the directory structure should be preserved and much more. Set the operation exactly as you need it.
Try File Lifecycle Management for yourself
In this blog we have clarified what File Lifecycle Management is and how you can use it to improve your compliance and save costs. SpaceObServer is happy to help you with your data management needs.
Would you like to try it out for yourself? We offer a free and fully comprehensive trial version for SpaceObServer. Try SpaceObServer for free now!