TreeSize Free
Quickly Scan Directory Sizes and Find Space Hogs
Want to Know Where Your Disk Space Has Gone?
Get TreeSize Free! Even in the times of cheap terabytes a final truth remains: sooner or later every hard disk will near capacity. We have the solution.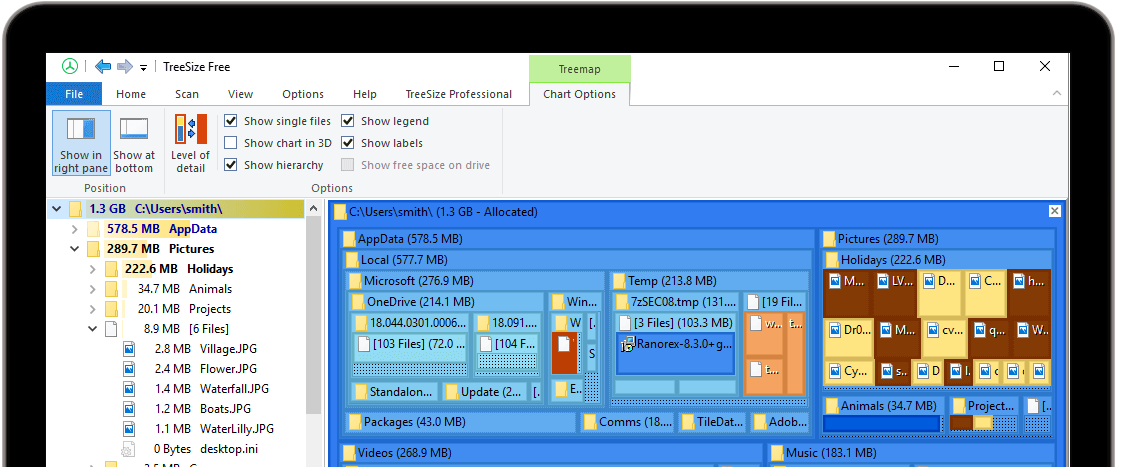 Efficient Disk Space Reporting
Scan your volumes in seconds and see the size of all folders including all subfolders and break it down to file level.
Quickly Clean Up Your Disks
With the integrated Windows Explorer context menu and the usual keyboard shortcuts you can quickly get rid of unwanted stuff.
Stunning visualization
See the distribution of the used disk space at a glance with our customizable treemap chart.
Different Versions for Different Requirements
What is Your Solution?

Free

TreeSize Free

TreeSize

Personal

TreeSize

Professional

* Perpetual licenses, no subscriptions

Breaks down scan results according to owner, file type, 100 largest files, etc.

Export to Excel, HTML and Email
I love this program. It always works well, and it does exactly what I need it to do. Helps me keep my computer very clean.
I just downloaded TreeSize Free and am most impressed with how much you have built into the free version of your software. It is clearly a well engineered and carefully thought out product that will be very useful for finding clutter on my hard drive. It contains far more value than I expected, and I compliment you on a product well done.
I was using Treesize to manage the space on my drive after having installed the Android devkit, which resulted in my system downloading about half-a-dozen versions of the SDK, along with about six thousand version of Java!! Absolute bloomin' chaos.

Thanks for Treesize. I haven't had to use it for about a decade, but it's good to know it's still around, and works as wonderfully well as it every did.

A life saver!!
4.5 out of 5 stars: Treesize users rated the tools meeting of requirements (96% user satisfaction) and its ease of use (96%) as the tool's two best features.

TreeSize
Professional
Get More With the Feature-Rich Professional Edition

TreeSize
Various charts and statistics: Get even more insight on your disk usage
Get detailed statistics on file types and file owners. A Top 100 list shows the largest files at a glance. Compare with previous states and see the size increases. Additional bar and pie charts give more insight.
Analyze disk usage in detail
Export
Export all reports and charts
Export all collected data, statistics and charts into various formats. Create a stunning PDF report or export to an Excel document for further processing or calculations.
Customizable File Search
Find and manage files
The TreeSize File Search allows you to search for files using various search criteria and perform versatile operations like move, archive, copy or rename on them.
More Information and Documents