ServerSentinel
Flexible and Reliable Server and Network Monitoring
ServerSentinel & USB Temperature Sensor
Simple & robust monitoring of room temperature
ServerSentinel can monitor the temperature in a server room with the help of the USB Temperature Sensor.
When an adjusted threshold value is exceeded, ServerSentinel executes a defined action, for example, immediately sends an email or text message.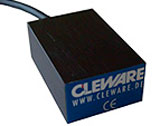 Features
Temperature sensor for use with a PC
Device specifications

USB device with 1.90 m cable
Aluminium case 25 mm x 15 mm x 40 mm
Valid temperature range: -20° to +80° C (using the sensor outside this range may destroy it)
Measuring accuracy ± 1° C, typically ± 0.2° C, at 20° C
Measuring resolution 0.0625° C
RoHS, CE & EN60950 conform/ IP57
Less than 50 mA power consumption
Splash-proof: The casting resign protects the sensor against humidity and splash-water. Anyway the sensor must not be operated under water for a long time, because the casting resign will very slowly absorb water. There is no guarantee that the sensor materials will not react with its environment.

Existing USB drivers are sufficient, no separate drivers have to be installed
Purchase the USB Temperature Sensor in the cleware shop.