SmartCallMonitor
Powerful Solution for a Modern Telephony System
Professional Call Management Across All Devices
All Information on the Callers at a Glance
Insightful Statistics on Your Call Data
Communicate More Efficiently
SmartCallMonitor easily adds the functionality of a telephone system to your TAPI-capable devices and transforms your phones and computers into a modern and highly efficient CTI solution. With a SIP account you will also benefit from all advantages of VoIP using SmartCallMonitor. Get your powerful solution for a modern telephony system.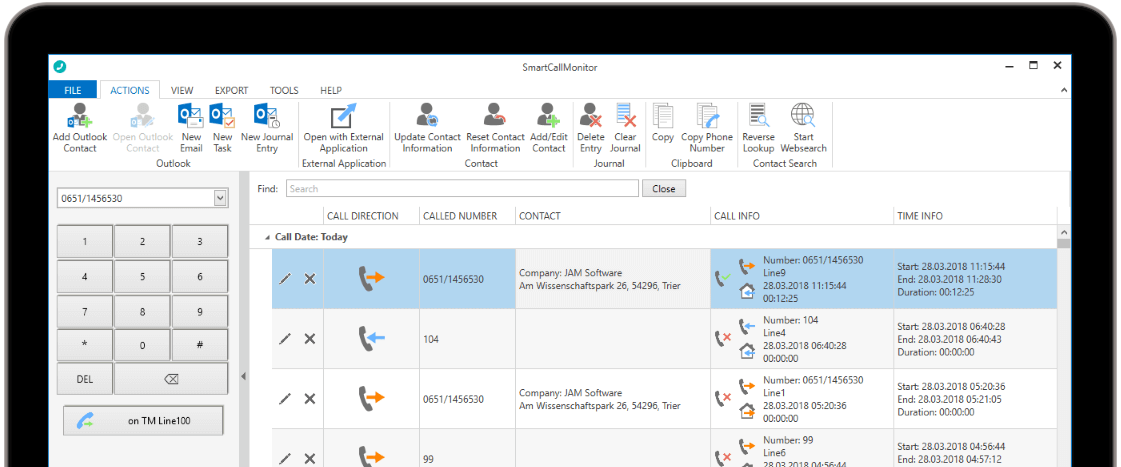 Call Management Across All Devices
Each SmartCallMonitor client can act as SmartCallMonitor server, so there is no need for the TAPI interface on every computer.
Reverse Caller Lookup & Call Statistics
Automated search in Microsoft Outlook, Google or the online directories, CRM system, and customer database. Recording of all data on the call.
VoIP Softphone
Simply use your headset connected to the computer to make calls via SmartCallMonitor. You only need a SIP account.

Compatibility
SmartCallMonitor runs on any current edition of the Windows operating systems (32-bit and 64-bit) and also supports all current Windows Server versions starting with Windows Vista and Server 2008. The required .NET 4.7.2 will be provided during setup.
Use Cases
Regardless of whether your computer is a workstation or a server, SmartCallMonitor Professional provides access to connected telephone devices for multiple computers. Learn how you can use SmartCallMonitor to establish comprehensive call management across all devices!
Use Case for Server:
Is the server equipped with a TAPI interface and you want other computers to have the TAPI functionality too? Install the software on all connected computers. The data of the calls is retrieved by the server and the calls are controlled centrally. There is no need for the TAPI interface on every computer anymore!
Use Case for Computers With a TAPI Interface:
A sales, customer support employee can forward a call to the colleague who has been identified by SmartCallMonitor as the responsible account manager using the information from the database. The smart solution communicates between the computers that are connected to a TAPI device.
4 stars out of 5
SmartCallMonitor mostly shines if used in a big business where information mostly goes about through phones. Most time is spent configuring the contacts database, but once this is done, the application handles everything else, providing details you request. Read the complete review.
Optimize Your Home Office or Get an Integrated Professional Telephony Solution
We offer the phone monitor software as freeware for single-user workplaces or small offices and as a full-featured powerful solution for larger companies. Take a look at the selection of functions and find the right edition for you.

Free
SmartCallMonitor
Free
Integration with CRM system or customer database

SmartCallMonitor
Professional
Integration with CRM system or customer database
More Information and Documents
Get more information on the powerful software for phone call monitoring, find out how SmartCallMonitor works and have a look on our license information.