This is new in Windows 11
JAM Software is ready for the next chapter.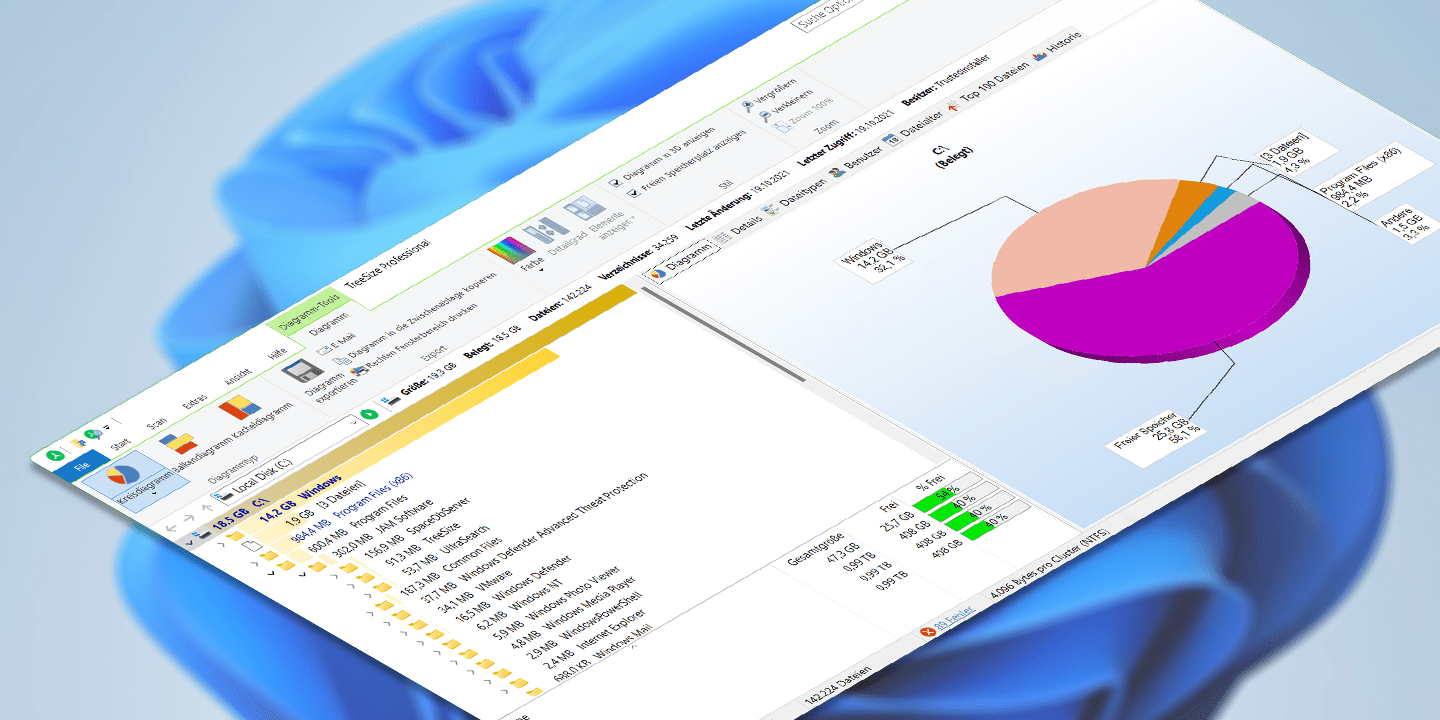 So there is a Windows 11 after Windows 10 – which has now been public for a while. The new version of the Microsoft Flagship was released on October 5th. Since we at JAM have been enthusiastically developing software that everyone needs, for the operating system that everyone has, for the last 20 years, it is time to take a closer look at Windows 11.
So let's see what's new in Windows 11.
More than just rounded corners? What's new in Windows 11
Windows with rounded corners, a centred task bar and a modern, frosted look: Windows 11 has, 6 years after Windows 10, dared to put on a new look. It does look a bit like a Mac, but by Microsoft.
It is not just the frosty look though. They completely overhauled the start menu. While Windows 10 users are still greeted by tiles when clicking the start menu, a relic of past ages, Windows 11 instantly shows you a range of apps. But not just any apps: Pinned and recommended apps that have recently been used.
If the app you are looking for isn't there, you can use the search menu at the top. While the animated tiles of Windows 10 came across as a bit jumpy, this new start menu looks solid and well organised.
At a second glance, however, we see a lot of familiar features, because although it is a new version, it's still Windows.
The explorer, for example, has had a do-over with new symbols, but the structure is still the same. On the left are the drives and main folders while you have the sub-folders and files on the right.
The Context Menu you get when right-clicking has been tidied up – there are far fewer options, including only the basics. If that's not enough for you, you can still have all the options displayed by a click on "show more options".
The ribbons that were introduced in Windows 8 have been removed. They were replaced by symbol-buttons and are supposed to simplify touch controls.
But let's look beyond the shiny new surface. Which new functions can we expect in Windows 11?
The most important changes in Windows 11
Windows 11 has taken up a lot of innovations, especially regarding the Microsoft Store. There, you can access a myriad of new apps. While you already had access to UWP- (Universal Windows Platform) and .NET-applications, there are also Electron-Programmes and especially Android-apps now. For those, Microsoft even entered a partnership with Amazon, to integrate the Amazon Appstore including Android Apps into the Microsoft Store.
So are we going to get all our software from the Microsoft Store from now on? That would probably be according to the idea of Microsoft. They also want to actively include developers of third-party software: Developers will be able to include a button on their website with which customers can install their software through the Windows Store. Download and installation will therefore run through the Windows store and not through a direct download on a website anymore, they state in their blog.
Besides the changes in the Store, Windows 11 also has some new features for users who work from home. If you are at your desk and have to take your Laptop to the kitchen for a second, then plug it back in at the docking station, you will probably like the following feature: With Snap Layouts you can now group and organize your apps. Individual apps and windows can now be grouped, moved, maximized or minimized together. Especially, users who are multi-tasking on one screen should be able to profit from this new design.
Windows 11 also has a new version of Microsoft Teams. There is a new version for private users that is just called "Chat": It is a slimmer version with less functions, tailored for the use by individuals, rather than companies. For people who want to use Teams privately and for business, it gets a bit tricky though, since they have to use both programmes, each with the respective private or business account.
Tips on how to speed up Windows 11
New features always also demand more specs. And that's where there is still potential with Windows 11: The new system requirements could be a too high for a lot of systems out there.
For example, you need TPM 2.0 ("Trusted Platform Module") to be able to officially install Windows 11. Most systems only have TPM 1.2. . TPM is a function that allows the safe storage of sensitive data. Additionally, problems with some CPUs have been reported. The performance of some AMD CPUs could suffer by up to 15%. That issue should however be only temporary since Microsoft and AMD are already working on a fix.
Some of the above mentioned requirements can be disabled. Microsoft left us a backdoor for that: Via the Windows-Registry you can disable the check for TPM 2.0 to be able to install Windows 11 even though you do not have TPM 2.0. At the same time, they display a warning that if you do install it after disabling the check in the registry that they advise against installing it and even go as far as informing the user that they are neither liable nor will they offer updates in the future. It is up to the user if they want to take that risk, and they are on their own from there on.
Windows 11, like Windows 10, has a lot of background services not everyone needs. Features regarding offline maps, for example, can be deactivated under "Apps" if you are running Windows on a Desktop PC.
The settings for privacy and security can be used to deactivate services for the localization of your desktop pc. Personalized adverts can be disabled in the category "General". In general, you can just go ahead and look through all the settings here and deactivate anything that you don't need. Disabling all those services should provide you with a good amount of performance.
Performance issues are not only related to outdated hardware. Even PCs with the best and most recent specs will slow down when data junk has gotten a hold of your system – no matter if it's a laptop, a home office pc or your gaming rig.
Is there TreeSize for Windows 11? Sure!
When changing to Windows 11 you should keep your disc space in check from the beginning, so you won't run into any issues in the future. With TreeSize Professional, managing your disc space is a walk in the park: TreeSize is already Windows 11 compatible!
TreeSize Professional allows you to scan local and external data-systems, network drives and files in your cloud.
Our tool displays size ratios of directories and files in a tree structure or also in various diagrams. This allows you to track down space wasters.
One function that might become interesting a few weeks after the initial setup of Windows 11 already is the list of the 100 largest files on a drive.
First, scan the directory you want to analyze and then click on the "Top Files" tab. Here you can find potential data waste-files across all different directories, sorted by file size, at a glance. If you want to delete a file directly, simply select it like you are used to it from the Windows File Explorer and then hit "delete".
We are ready for Windows 11
With the new Windows, Microsoft begins the next chapter in the history of the most used operating system in the world. Windows 11 comes with some new features that should be exciting for the work of the future. Unfortunately, there are also some reports about performance problems and the system requirements for Windows 11 might exclude some users - both private and in the important business environment. We are curious what the next updates will bring!
We at JAM have done our homework: Not only TreeSize, but also our solutions for ultra fast file search UltraSearch Professional and storage manager for corporate databases SpaceObServer are now ready for Windows 11! So, at least from our side, nothing stands in the way of your move to Windows 11!