Exchange Server Toolbox
Anti-Spam & -Virus, Backup and Rules Engine for the Exchange Server
Use Regular Expressions (Regex) and Enhance Rules and Conditions
The rule system of Exchange Server Toolbox offers several text-based conditions. One of them is the spam detection via SpamAssassin: words in different variants are identified with the help of regular expressions.
A "regular expression" can be described as a sequence of characters (such as numbers, letters, or special characters).
Regular expressions facilitate easy processing of emails - in fact, every text-based condition of the Exchange Server Toolbox rule system can use them. You need to sort emails automatically? Regexes are the way to go!
Example: Your shop system generates an automatic order notice and sends it via email to your sales team. The following information appears in the subject: order number, order date, and an article number starting with the characters UTN.

Exchange Server Toolbox can check each incoming email for a sequence matching this structure. The regular expression used here reads as follows: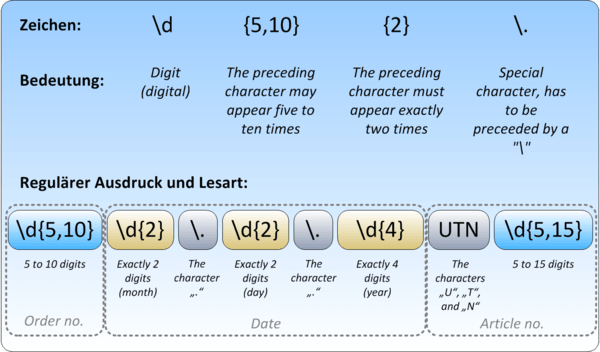 The regular expression would identify the following texts:



Once the condition is met, the allocated rule starts working. In this case, Exchange Server Toolbox identifies the email as an order and adds an additional header entry. This entry is detected by an Outlook rule, sorting the emails into the inbox labeled "new orders".
Use regular expressions and the advanced rule system - save time and make sure no order goes unnoticed.