Exchange Server Toolbox
Anti-Spam & -Virus, Backup and Rules Engine for the Exchange Server
Use the Global Rule System for Exchange Server and Automate Processes
With the global rule system integrated in Exchange Server Toolbox you can use rules to determine how incoming, sent or internal emails shall be processed (internal emails: Exchange Server 2007 and higher).
The rules allow an automated processing of emails already on the server side. These can even be transferred to external programs for further processing. The Exchange Server Toolbox rule system uses regular expressions.
It goes without saying that you can easily create your own rules or modify existing rules.
Example:
Your online shop automatically generates an order notice and sends it via email to the appropriate account manager. Each order shows an order number, a date, and an article number starting with the characters UTN in its subject. In the email content, more detailed information regarding the order is available (no variations regarding the format). Once such an order email is detected (and thus the condition "order email" has been fulfilled), additional headers are added to the email's subject. The Exchange Server or Outlook rules then sort the email and move it to the inbox marked as "outstanding orders". At the same time, the email is passed as an EML file to your internal inventory control system, which in turn reads and processes all relevant information.
Can the rule system increase spam protection?
Exchange Server Toolbox uses SpamAssassin as part of the rule system. The spam blocker assigns an internal spam score to each email. The score is determined by different criteria. Once an email crosses a predefined threshold, it will be refused by the server (Exchange Server 2007 and higher). If a lower spam score is detected, the email will be delivered but marked as possible spam or junk email.
The rules can also protect you from inadvertedly sending out spam emails (and the resulting possible lawsuits) by blacklisting recipient adresses for all accounts.
Does the Exchange Server Toolbox influence the Outlook on my PC?
Not directly! The rule system of the Exchange Server Toolbox works on the server level, one level above your local email software. After emails have been checked by Exchange Server Toolbox they are processed according to the rules in your Outlook - while profiting from the advanced spam protections and antivirus protection.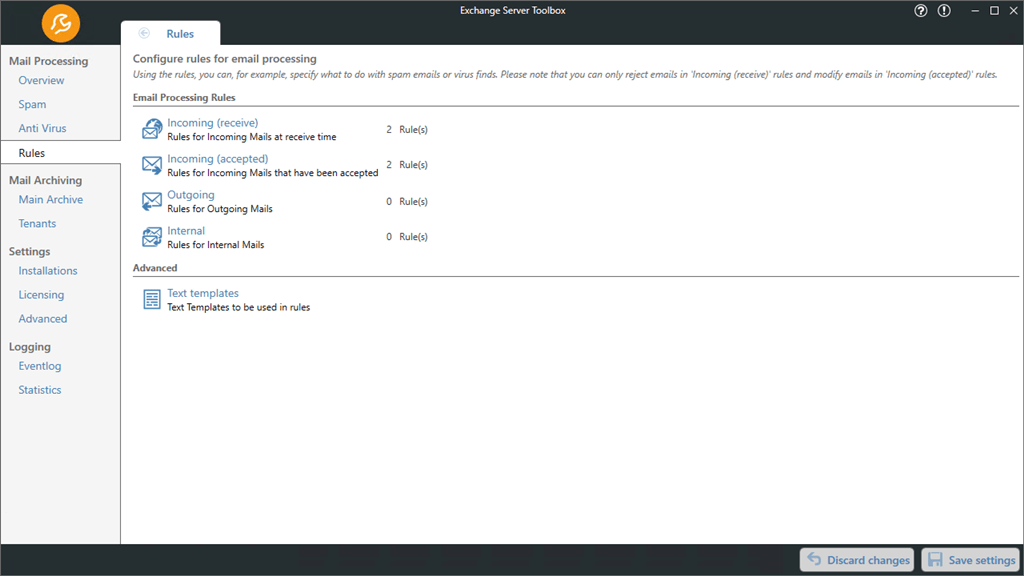 Easily manage rules in the Exchange Server Toolbox backend.