Duplicate File Finder
Looking for duplicate files? One Problem, two strong solutions.
Remove Duplicate Files Professionally
Duplicate files are a waste of precious disk space. Whether on your local drive, external hard disks or your network file systems: Finding duplicate files can be quite a tough job. Luckily, with TreeSize and SpaceObServer we offer two strong solutions for every use case. So, what fits best for you? Let's find out!
Find and Manage File Duplicates
Scan through different targets and find duplicates in no time - whether on smaller machines or large server distributions.
Duplicate File Remover
Remove duplicate files without losses. Duplicate files will be replaced by NTFS hardlinks instead.
Duplicate Search Automation
Sooner or later, your hard disk will be full of duplicate files again. That's why we offer automated scan reports.
The benefits of TreeSize duplicate search
TreeSize is the most famous disk space manager for Windows and trusted by hundreds of thousands of customers around the world. As an allrounder solution, TreeSize offers not only helps you finding duplicate files but also acts as a professional duplicate file remover. Search for file duplicates on your local drives, folders and even network shares.
Use the intuitive search mask of TreeSize to find duplicates in seconds. Once all duplicates are selected, TreeSize lets you choose to comfortably delete, archive or deduplicate the found files. Profit from our option variety to only select those files you really want to remove and leave others untouched.
Simply deduplicate files without losses
TreeSize lets you define a smart pattern to check mark all files which match certian criteria. Once check marked, you can easily move, delete, or archive all duplicate files, using the "Move Items" option.
To automate your duplicate searche you can use the comfortable TreeSize task planner in Professional Edition. Let TreeSize inform you about the results via email.
Find duplicate files on regular base with SpaceObServer
SpaceObServer is your solution if you are looking for a duplicate file finder for larger server landscapes. SpaceObServer is a disk space manager which stores all scan results to a database and able to collect MD5 checksums plus file metadata using a background agent. Storing the data in a database, it can be retrieved in seconds.
In addition, all file operations TreeSize has to offer are also available in SpaceObServer. Move, archive, delete or deduplicate duplicate files - and much more!
Schedule duplicate search
File duplicates are created constantly - so you should search for them constantly. With the scheduled scans, SpaceObServer searches for file duplicates continuously. Configure your scan individually to search for file duplicates monthly, weekly or even daily e.g. at non-office hours.
Look for similar folder structures in no time
On many servers, there are not only copied files but also duplications of whole folder structures. SpaceObServer can help by comparing file content using the MD5 hash sum. Comparing folder structures and finding similarities can't be easier.
Find Duplicates using the SpaceObServer Web Access Add-On
You need to be able to view your scan results at any time, whether SpaceObServer is installed on your system or not. With the SpaceObServer Web Access Add-On, you can conveniently retrieve the scan results online in your web browser across all platforms. This way, you can also grant your employees access to the important scan results at any time.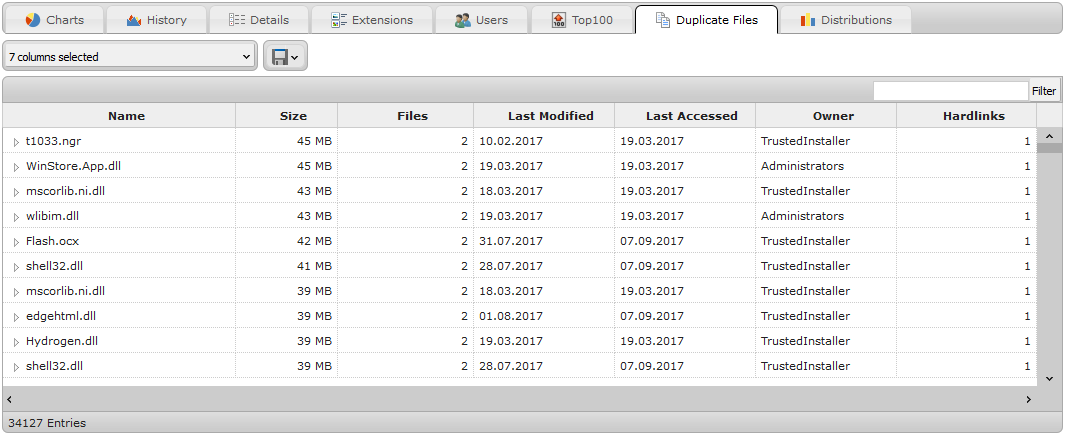 When to use TreeSize, when to use SpaceObServer?

TreeSize
Professional
Professional Deduplication
Move, Delete & Archive Operations
Duplicate Search On Demand
Suitable for large and distributed server landscapes

SpaceObServer
Enterprise Edition
Professional Deduplication
Move, Delete & Archive Operations
Duplicate Search On Demand
Suitable for large and distributed server landscapes