The freeware stress test tool HeavyLoad was developed to bring your PC to its limits. It can be installed on any edition of Windows and client/server versions (32-bit and 64-bit) currently supported by Microsoft.
HeavyLoad puts your workstation or server PC under a heavy load and lets you test whether they will still run reliably.
Be mobile: Install HeavyLoad as a portable version e.g. on a USB stick and use it as your benchmarking software to go!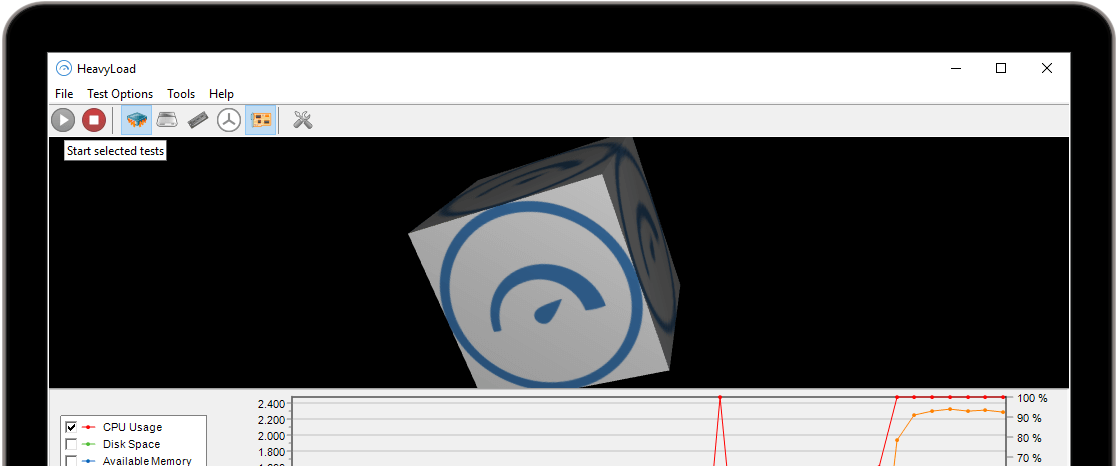 Stress Test for Your Most Valuable Systems
Check your most important systems in advance to see whether they can withstand the highest loads with our computer performance test.
Tests for All System Components
No matter if CPU, GPU, RAM, hard disk, or all of them together: HeavyLoad takes it to the limit!
Easy to Use
Thanks to an intuitive graphical user interface and visual feedback, no expert knowledge is required for our benchmarking software.
5 Stars Rating:
Heavyload is a System Utilities Benchmarking software developed by JAM Software GmbH. To stress your PC or server, HeavyLoad writes a large test-file to the temp folder, it allocates physical and virtual memory, performs complex calculations and it draws patterns in its window.
More Information and Documents
Here you'll find valuable links to comprehensive guides and documentation which help you start working with HeavyLoad as quickly as possible.