TreeSize
The Powerful Disk Space Management Software
Check for Duplicate Files Using the Integrated Duplicate File Search
If multiple or constantly changing users store data on a system, you'll find that files and sometimes even entire file trees have been duplicated over the years. They use up disk space, so removing duplicates is a task that should be performed at regular intervals. But how do you find duplicate files?
Search for duplicate files on various drives
The TreeSize duplicate file search enables you to look for redundant files on your drives, folders, or network shares. You can choose between:
Windows file system
SharePoint
Amazon S3 Cloud Storage
Linux/Unix Server using SSH
WebDav
It employs MD5 or SHA256 checksums to safely identify files with identical content. You may also search for duplicate files using a combination of file name, file date and size, which is much faster.
Multiple actions to remove duplicate files
In addition, TreeSize enables you to easily delete, archive, or deduplicate the found files. It offers a variety of options to select specific files for deletion or deduplication and leave others untouched. Would you e.g. like to delete all but the newest file of each duplicates group or files from a certain path? TreeSize helps you to define a pattern that check-marks all files matching the given criteria. Once check-marked, you can easily move, delete, or archive all duplicate files, using the option Move Items.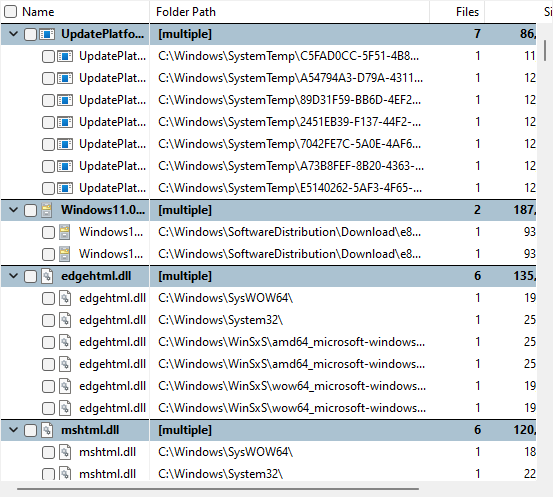 Automatic and continuous tasks
You can run duplicate searches automatically with the comfortable TreeSize task planner in the Professional Edition, and let you email the results.
Is your task to perform a duplicate search on a regular basis or you have very large file systems? Then try our database-based disk space manager alternative SpaceObServer which is able to collect MD5 checksums and file metadata using a background agent and stores it in a database, from where it can be retrieved in seconds. Besides identical files it can also find similar folder structures.
Want to try the TreeSize duplicate search yourself? We offer a 30-days trial for TreeSize.