TreeSize
The Powerful Disk Space Management Software
Monitor Disk Space Usage Development With XML Reports and Snapshots
Continuously keeping an eye on the development of disk space usage is a good idea. If there was an unexpected growth in disk usage, it makes it easier to answer the question, in which area the disk space increased so much or who is responsible.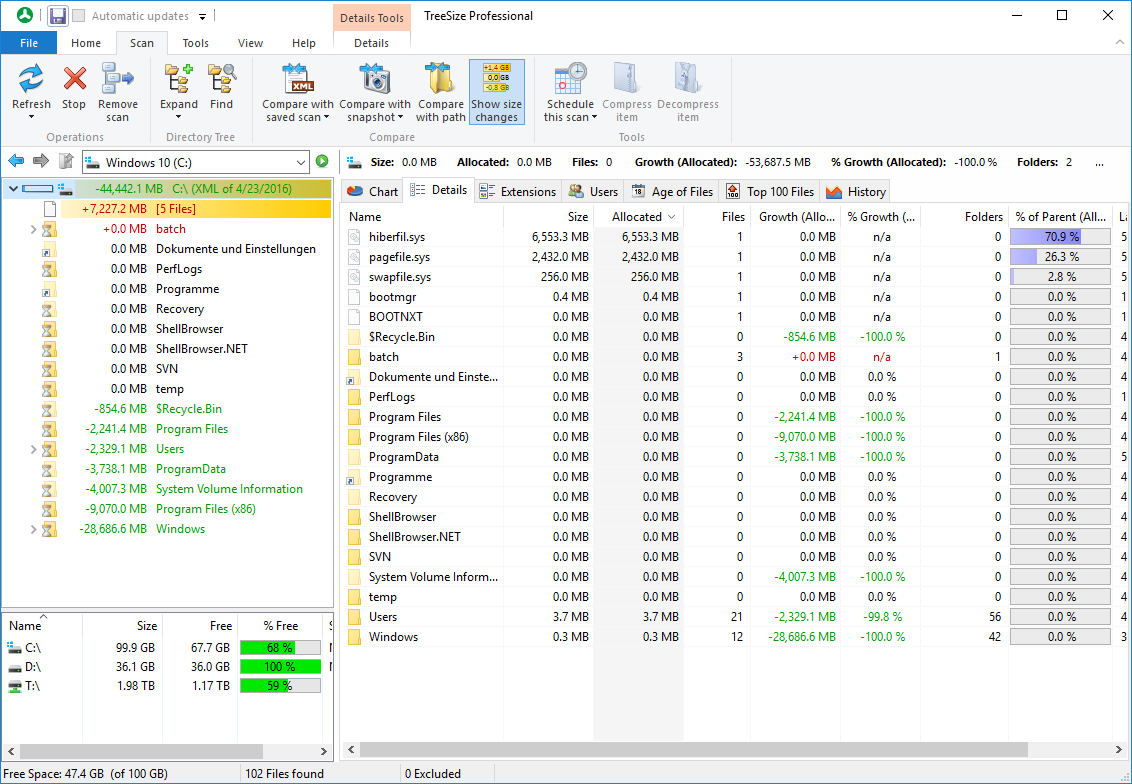 You prefer to save a series of actual states and view them at a later date? TreeSize offers a wide range of exporting and reporting formats.
The bird's eye perspective: XML reports
With TreeSize you can save scan results in the XML format and load them at a later date. A comparison of old and new results enables you to monitor and analyze the development of certain folders over longer periods of time.
Please note: Since TreeSize saves the whole folder structure for such a comparison, the generated XML files can be quite large. Our product SpaceObServer stores the historic disk space development more efficiently in a database.
The quick overview: snapshots
If you want to compare scans but would like to avoid saving huge XML files, the snapshot feature could be the better choice. A snapshot can be described as "photography" of the disk space status at a certain point in the past. It is a builtin feature of the NTFS file system and created within seconds. Windows will automatically delete old snapshots if the space it occupies is needed. The amount of disk space reserved for snapshots can easily be configured* via TreeSize or the settings of the Windows System Restore.
*Tools > Configure Windows System Restore > Configure > Use slider to set maximum
Windows creates such snapshots independently from time to time. Depending on your system's configuration you can access disk space information saved even before TreeSize was installed on your machine. This feature is unique to TreeSize and becomes very relevant once a computer's hard disk is already filled to the brim and you need to quickly fix the machine.
Database support for optimal results: SpaceObServer
If you want to monitor folder size development in detail and in freely selectable intervals, we have the perfect solution for you: SpaceObServer runs in the background and uses a database to save folder structures right down to file level - history included! Older scan reports and the historical development are provided automatically and do not have to be saved separately.