TreeSize Free
Quickly Scan Directory Sizes and Find Space Hogs
TreeSize Free shows file and folder size on local drives as well as network shares. You can also use the freeware to scan locally synchronized cloud drives such as DropBox, OneDrive, or Google Drive.
You are using a NAS (Network Attached Storage)? TreeSize Free will help you find wasted disk space and large folders on your Synology, Western Digital, or QNAP NAS.
The user interface works similar to the Windows Explorer. It shows you where and how disk space is used so you will identify disk space hogs such as large files and folders at a glance.
Scanning network drives in commercial environments, however, is not possible with TreeSize Free. If you require this feature, give the TreeSize Professional Edition a try.
Scanning nework drives with TreeSize Free is really easy. Simply start a new scan...

... and select the network share. A few seconds later TreeSize Free will present the scan results and grant you an overview of the network drive: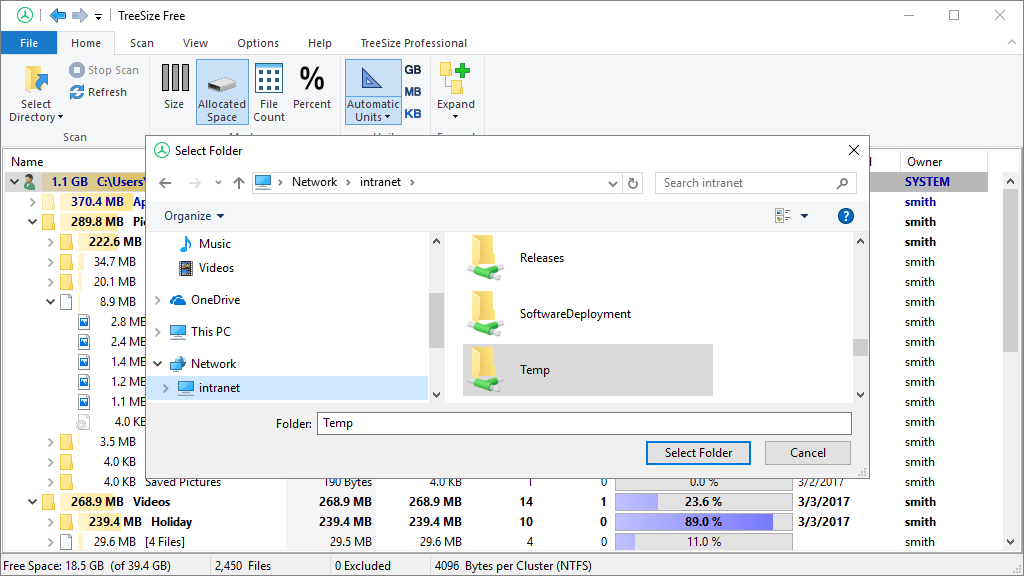 Need a more detailed overview? In the details view you will find additional information, such as
file and folder names
file and folder size
percent of disk space used
file owner
file attributes
average file size
TreeSize Free scans large files in mere seconds - clean up network drives, NAS and hard disks with your trusty freeware today!
Professional Disk Space Management
Find and remove duplicate files, see the 100 largest files, gain access to handy NTFS features, use a wide range of exporting options, and run scans automatically with TreeSize Professional.