Create File Reports with TreeSize easily
Show all files and folders in details lists and export them.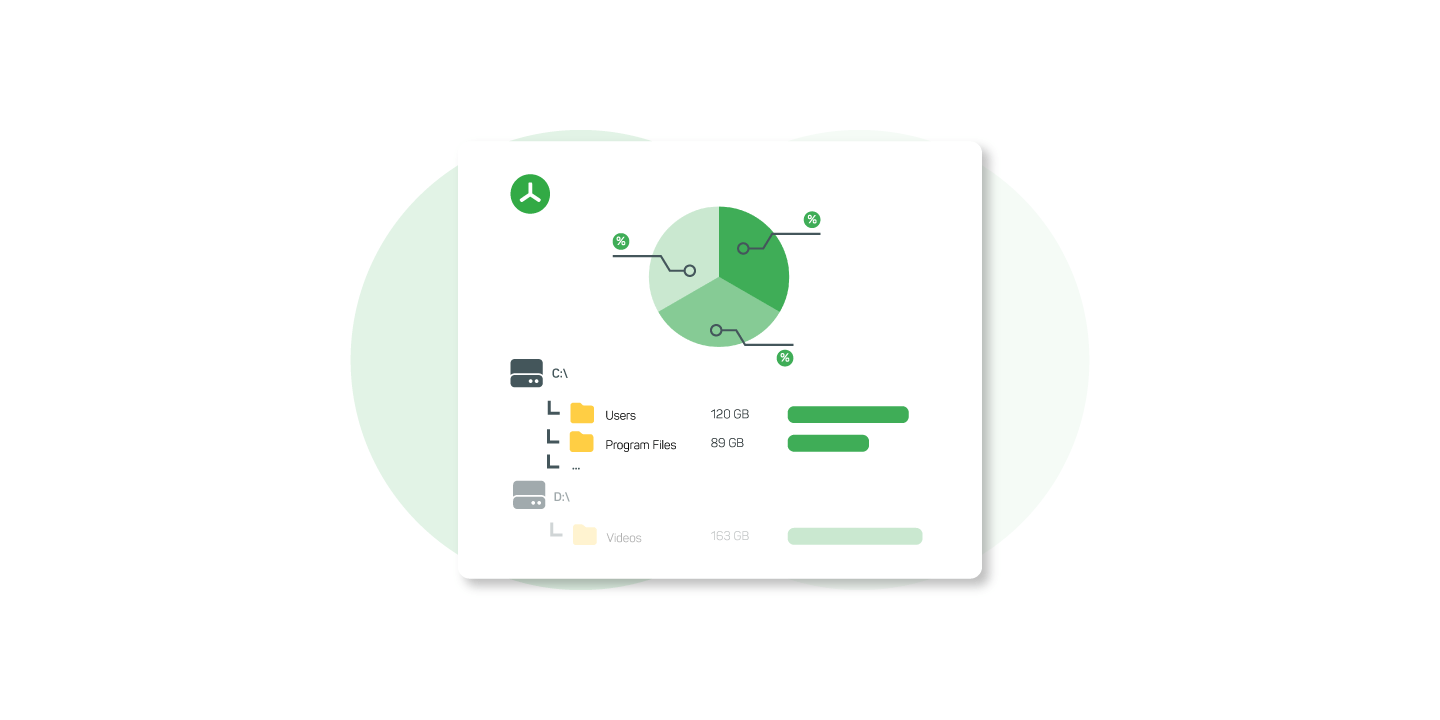 Do you want to create a report for files and folders on a specific hard drive? TreeSize helps you exporting file details lists.
Files have a lot of different information that Windows Explorer can't display. Nevertheless, supervisors often expect reports of metadata for individual files, such as a particular user's share of total space usage or set NFTS permissions per file or directory.
TreeSize can provide all this information and much more.
How to create details lists for your report
First, select the drive or folder you want to scan. TreeSize supports a variety of different scan targets on your local storages as well as in your network or in the cloud. Select the details view. Here you can see all files and folders in a detailed list, just like in the Windows File Explorer.
Besides columns like file size or creation date, TreeSize offers more than 40 different extra information. For example, the occupancy rate of a file in percent or the assigned permissions.
Just check or uncheck columns by right-clicking the column header – or via the options menu. Doing so, your file list only contains this information you really need.
Besides TreeSize's columns, you can also activate all columns from the Windows Explorer. That way you can identify the duration of audio or video files, the heights and lengths of images, the author's names of Office documents or even the page amount of PDF files comfortably. In contrast to the Windows Explorer, TreeSize lets you export all information and process them further.
Showing meta information for all files
Do you want to add further information that TreeSize can aggregate? Add file types, users or file age to the columns in the file details list. For that, click on the tab "Age of Files", for example, and then hit "Add Age of Files to the details view" in the Ribbon menu, here we choose 6 months to 1 year.
In this new column, TreeSize only shows the size of those files that meet the criterion. Here, for example, files that are between 6 months and 1 year old.
Identify costs of your disk usage automatically
Server storage can be expensive – so it's important to keep an eye on space hogs on your hard drives. A first cut of the spade can be made by letting TreeSize calculate the costs of allocated file and folder storage space.
Choose the property "costs" in the column selection and TreeSize adds the storage costs in the details list instantly. You can customize the flat-rate fee per gigabyte in the TreeSize options.
This saves you formula calculation in an Excel table for your report.
Export your report into different formats with just one click
Does TreeSize show you all relevant information now? Great, then you can export your details list in various formats. TreeSize supports Excel, CSV, HTML as well as PDF and simple text file as export formats. All activated columns are part of the export.
Of course you can customize what should be part of the export. Check or uncheck all desired columns under "Exported Columns" in the Export options.
Long story short: Create reports of your storage usage fast and effectively
TreeSize helps you listing all files and folders on a particular drive in a clearly arranged list. Doing so, you can add the details columns known from the Windows Explorer as well as metadata that is aggregated by TreeSize, like the consumption of storage space in percent or NTFS-permissions. Beside that, you can allocate disk space usage to specific users, file types or file ages. And, of course, export it all to professional reports.
Learn more about TreeSize Professional and try our 30-days trail version.