Export scan results and create reports
The disk space reporting software TreeSize offers a variety of formats for reports and exporting your scan results for further processing.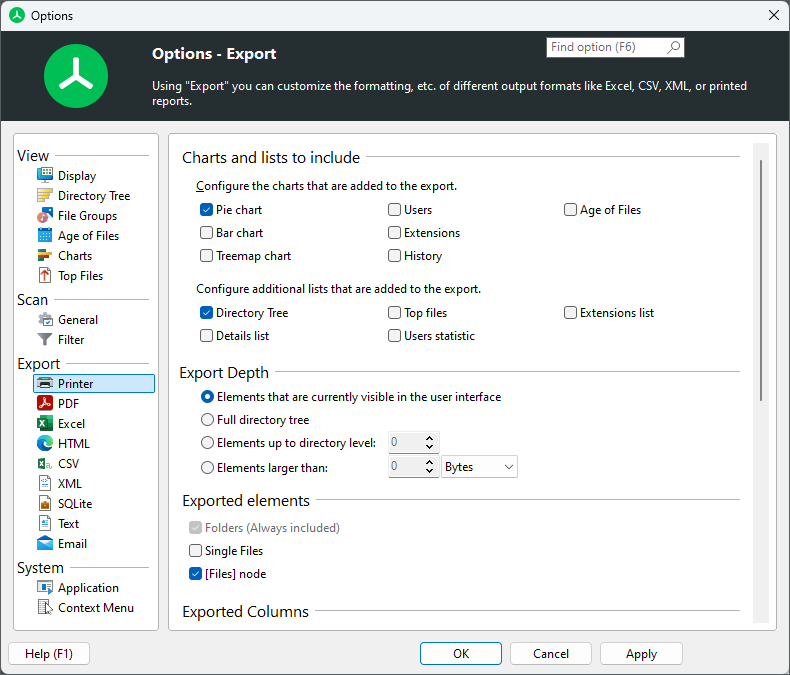 In the Professional Edition of TreeSize you can schedule scans and exports  as Windows tasks in a comfortable interface. These export formats are supported:
Create a disk space report automatically as PDF
Reports can be exported to PDF files. The PDFs are nicely formatted and can contain charts and diagrams. They are the best choice for reporting towards management.
Export scan results as an Excel file
TreeSize incorporates native Excel 2000 to 2019 support, just hit "File > Export > Excel" after a scan and use the "Customize" button to configure the export to fit your needs. When exporting data in the XLS / XLSX-format, TreeSize will format the columns according to their content and in the chosen unit (e.g. KB, MB etc.).
Using scan results in your calculations is easy: simply use those cells in your formulas. No reformatting of any kind required. Optional expandable tiers grant the perfect overview and facilitate easy scan analysis. The export works no matter whether Excel is installed on the machine or not.
If the application or database in that you want to process the scan results doesn't support the Excel-format, simply save your reports as CSV-files. You can customize which columns will be exported and which character will be used as list separator.
Send scan reports automatically as an email
Send your reports directly with the TreeSize email-export. No extra steps (like save, copy, or attach) are needed. HTML and Text mails are supported.
Compare scans
Save the results of your scans in the XML-format to load and review them again later, or to easily compare them to a current scan. This allows you to keep track of directory growth over a period of time. XML is also a good format for automatized post-processing of the results.
Export scan data as HTML
Reports saved in HTML format can for example be published on an internal web-server. A browser to display them is typically available on every machine. Our HTML files offer a dynamic view enabling you to expand and collapse each level of the directory tree, very similar to the TreeSize user interface.
TreeSize is able to output a nicely formatted, tabular text file, which is your choice if HTML or PDF cannot be used.
Copy scan results to clipboard
You need to insert your scan results or the TreeSize charts into any other program, an existing document, or an email? Just copy them to the clipboard for further use. This works as well for selected directories.