Exchange Server Toolbox
Anti-Spam & -Virus, Backup and Rules Engine for the Exchange Server
Exchange Server Toolbox as Plug-in for hMailServer
The open source email server hMailServer for Microsoft Windows is a full-fledged email server with SMTP, POP3, and IMAP services. Emails can be received via SMTP or downloaded via POP3. hMailServer is free, the code can be downloaded from GitHub. Web frontends for administrators (for example PHPWebAdmin) as well as users (for example SquirrelMail or Roundcube) are available.
Exchange Server Toolbox can be used as a plug-in for hMailServer as well as Exchange Server.
Use the hMailServer as an Email Proxy
If used as a proxy, the hMailServer is interposed between the internet and the mail server (e.g. Exchange Server). The hMailServer processes each email: spam emails or emails carrying malware can be recognized and blocked before they reach a user's inbox. If Exchange Server Toolbox is installed as a plug-in for hMailServer, the integrated spam protection and virus scanner will keep inboxes safe, while the rule system will sort and process emails automatically.
hMailServer in a DMZ
To increase the security of your own network, it may be advisable to run the hMailServer in a DMZ. The server - thanks to Exchange Server Toolbox including virus and spam protection - works outside the network. E-mails are only forwarded if scans show no problematic content: The internal network is secure.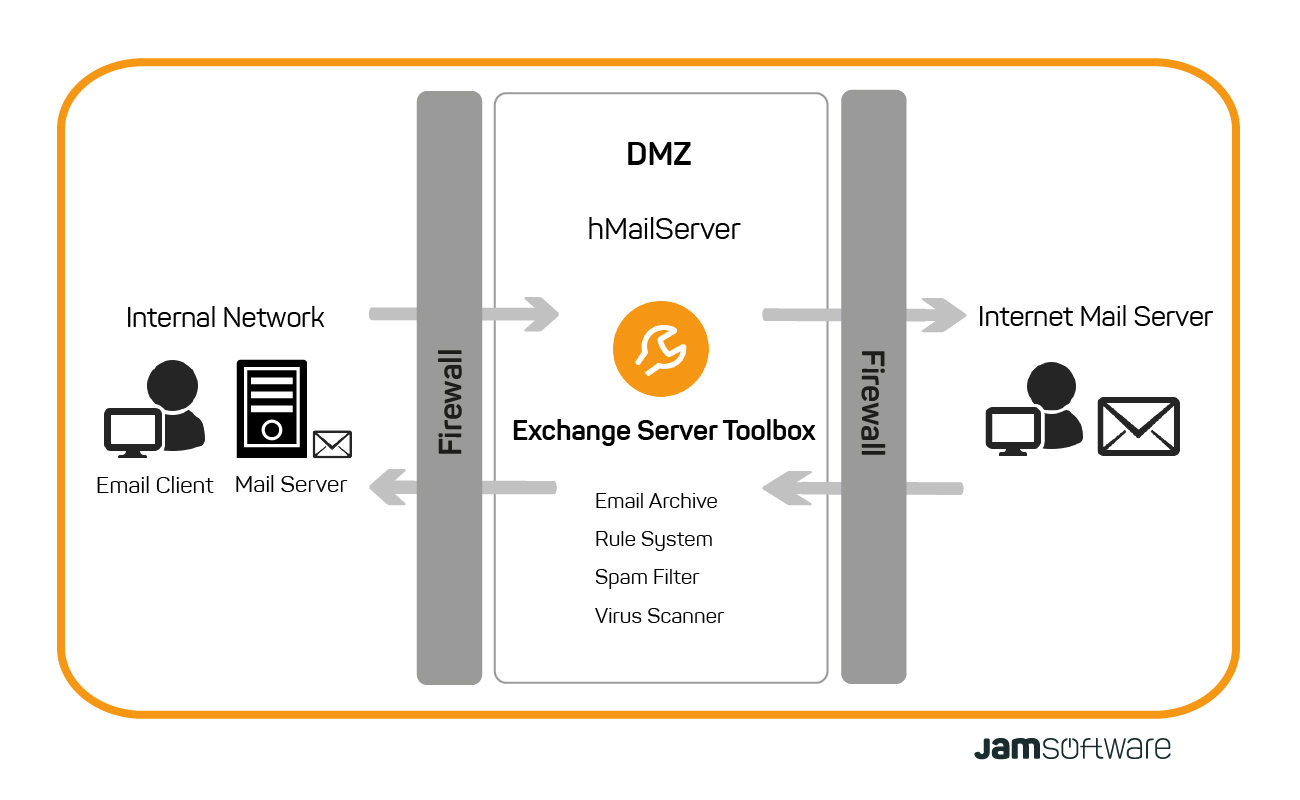 Before an email can reach the internal network it has to pass the DMZ and two firewalls: one firewall secures the connection of the internal network to the DMZ, a second one separates DMZ and Internet.