Process Multiple Files In One Go
TreeSize offers various bulk operations to process files - save time!
Move, archive, delete in a bulk
Rename multiple files at once
Schedule recurring tasks
Execute File Operations On Multiple Files
Do you want to process multiple files at once? TreeSize can execute various file operations on your scan results or search results list.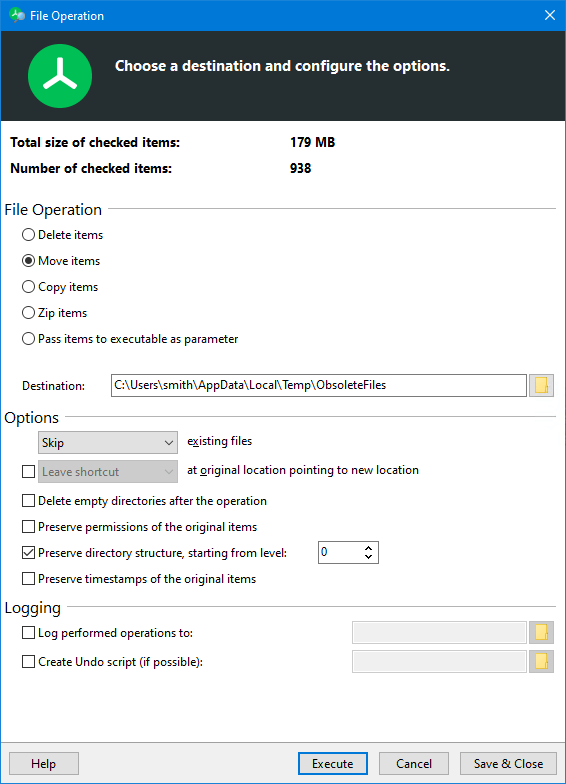 What file operations does TreeSize offer?
Move files to a different location under preservation of certain parts of the path.
Copy files to any location - this feature is very handy for a SharePoint migration for example.
Delete checked files or move them to the recycle bin.
Archive the files in the ZIP format.
Define your own scripts and pass the checked results list as parameter to them, to perform any desired operation.
TreeSize can create a log file as well as an undo script for each operation.
What makes the TreeSize file operations so special?
Unlike other tools, TreeSize can preserve the directory structure, time stamps or NTFS permissions when moving or copying files if necessary. This helps to maintain the logical structure of the data and ensures permission-based functionality - as well as helps to preserve well-established workflows.
In addition, you can leave symbolic links (NTFS hardinks) in place of moved old files, enabling other users to access them in their new location.
Rename multiple files at once
Are you having trouble with outdated, too long or illegal file names in your folder structure? TreeSize can rename multiple files in a bulk with just a few clicks.
With TreeSize, you can rename as many files as you like in one swing. The Bulk Rename function is easy-to-use and offers several operations for modifying names:
Replace text, optionally by using a regular expression.
Insert the selected text as a prefix, suffix or at a specific position.
Serialize the file names.
Delete a certain text within the filenames or any text at a certain position.
A preview allows to see which renaming operations effectively is going to be performed, which prevents errors.
Perform scheduled file operations
Do you want to save even more time? Why not automate file processing!
With TreeSize, you can schedule file operations as well as system scans and file searches as a Windows task. This allows to carry out recurring tasks like archiving or renaming certain files automatically and in regular intervals.
Different editions to fit all needs

TreeSize
Personal
Process multiple files in a bulk
Renaming multiple files at once

TreeSize
Professional
Process multiple files in a bulk
Renaming multiple files at once