Find Your Files in Seconds
UltraSearch Free looks for files and folders and presents the results in just a few seconds. The sleek tool uses the unique technology which enables the searching directly at the heart of the NTFS file system on your hard drive, the Master File Table (MFT). UltraSearch searches all directories on local drives at lightning speed and delivers what you are looking for in a clear overview.
UltraSearch Free supports all current Windows operating systems.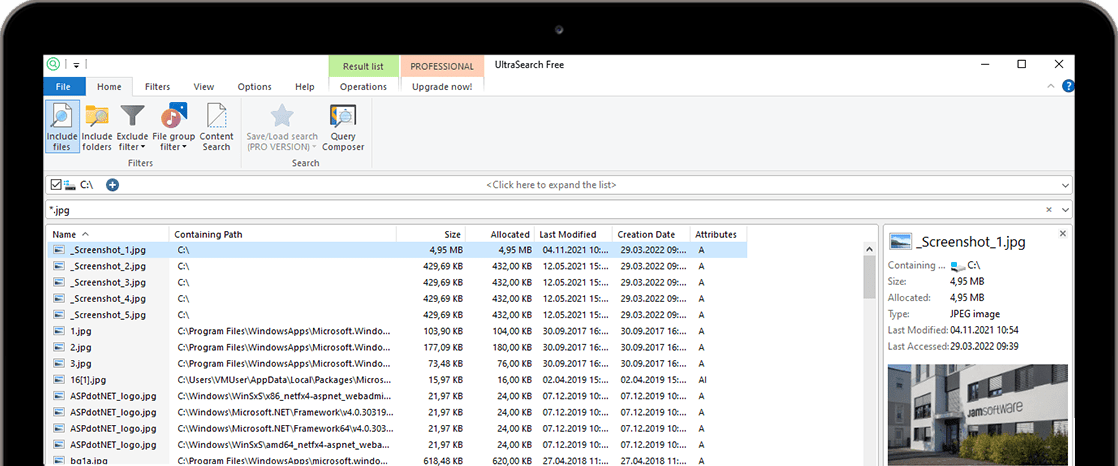 Easy to Use
Intuitive and clean user interface for enhanced simplicity and unparalleled ease of use.
Real-Time Search
You get the first results while you are still typing.
Advanced Search
UltraSearch Free supports regular expressions and will search file content.
I've been using this ultra fast search software for years with all my XP builds for myself and for clients. Thank you very much for your work.
Just installed this program and did a search for *.scr files and wow it found them all *snaps fingers* just like that I couldn't believe how fast it was for just after installing the program.
UltraSearch comes with the advantage that it looks for your query straight into the Master File Table of the NTFS drive. The speed in returning a result through this method is amazing. You will actually be able to view results as you type the search term.
Different Versions for Different Requirements
UltraSearch Free is not only ultra fast but also free - but UltraSearch Professional offers additional features to support your work comfort.
What is Your Solution?

Free

UltraSearch Free

UltraSearch

Professional

Show download and buy options

Performance of the file search

Flexibility of the file search

Search on Windows Server

Advanced file operations

Date and file size filters
More Information and Documents
Get here more information on UltraSearch Free and find other useful references.