UltraSearch Professional
The Ultra Fast File Search Solution
Flexibly Customizable Search Tool
Easy To Use and Attractive User Interface
Searches hard disks and network drives
Ultra fast. Ultra easy. UltraSearch.
Improve your workflow with our ultra fast solution for convenient file search: UltraSearch Professional is available now! The must-have Windows Search alternative reduces your waiting time to an absolute minimum as it shows you the first results while you are still typing. Take advantage as you search for files not only on hard disks but also on network drives. Flexibly individualize your search with your own search parameters to make the process even faster and more comfortable.
Benefit from UltraSearch Professional with its Ribbon surface, quick-access to convenience functions, PDF and Excel-export, the Query Composer and many more exclusive features and let us maximize your user experience!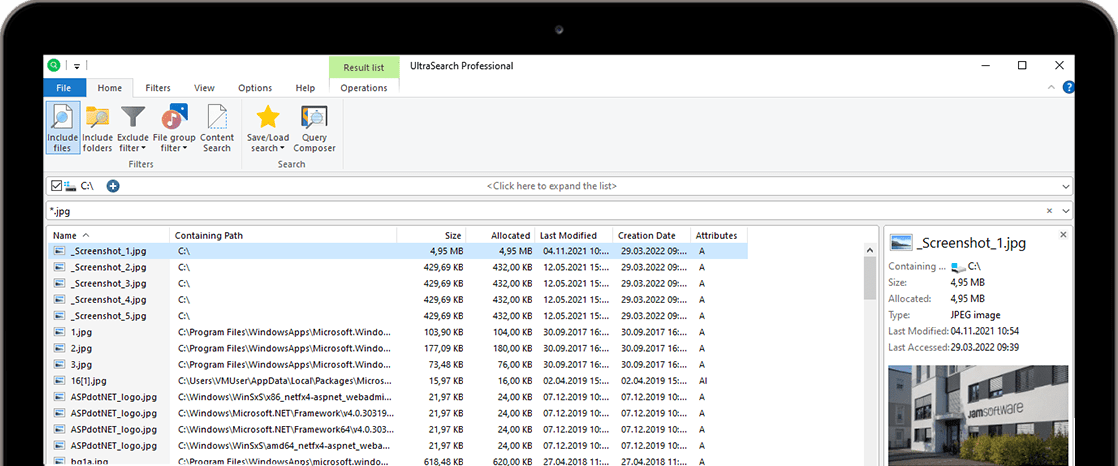 Search And Find Extremely Fast
The simple user interface provides fast and easy access, Windows integration and offers excellent performance for your file search.
Highly Customizable File Search
Use the efficient search syntax and optimize your search results by combining search attributes. The Query Composer will assist you.
System-wide search on all drives
Find files not only on local hard disks but also on your network drives, USB flash drives and SD cards.
Benefit From Unique Technology
With our solution UltraSearch Professional we achieve a milestone in file search history.
UltraSearch Professional does not maintain an index which is stored on your hard disk. It achieves its speed by working directly on the Master File Table (MFT) of the NTFS partitions. Therefore, it even identifies NTFS hard links. That way we enable you to look through all your hard drives essentially faster than with Windows Search.
In addition, with UltraSearch Professional you improve your workflow by not only searching through your local hard disks but also on your network drives, USB flash drives and SD cards.
Compatibility & Supported Languages
UltraSearch Professional is compatible with all Windows systems currently supported by Microsoft and supports numerous languages in addition to English and German.
Need more? Analyze and manage disk space with TreeSize.

TreeSize
Keep an eye on your disk usage
Visualize hierarchies and sizes of subfolders in treemap charts. Track folder growth and benefit from usage reports based on file types and users.
Efficient disk space management
Scheduled scans
Plan scans and search through your hard disk regularly. TreeSize also offers reporting via mail to support your compliance management.
No more waste of space
Track down duplicate files and reclaim disk space. Our smart deduplication feature will assist you removing redundant files.
More Information and Documents