SEPA-Transfer
Improved template management
Template Management for SEPA payments
Setting up SEPA transactions or direct debits can be a time-consuming task. SEPA-Transfer offers an improved template management for recurring SEPA payments to boost up the process.
Add new templates manually and edit them. Let SEPA-Transfer create templates for you out of new SEPA transactions and SEPA direct debits. This can save a lot of time during your payment process, especially when you handle SEPA payments on regularly basis.
Store predefined data about your payment partner, payment details, miscellaneous information as well as notes in the template. The name and the IBAN of the payment partner are required fields.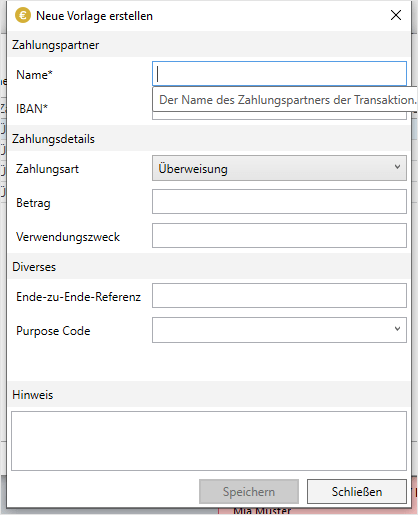 Where SEPA template management comes in handy
The template management helps you to complete recurring payment tasks way faster - for example, paying a supplier that delivers you monthly.
Set up a SEPA transaction and hit the checkbox "save as template" or create a template by hand in the "Extras" tab. SEPA-Transfer saves all information like the recipient's name, its IBAN, the payment amount or purpose code in a new template. Next time you need to pay for your delivery, boot up SEPA-Transfer and use the corresponding template.
By the way: SEPA-Transfer can accelerate your payment process with practical shortcuts. You can, for example, paste your payment data from the clipboard or use the import wizard to import data out of various file formats such as Excel or SEPA-XML.
Have any payment details changed? Just open the template management, select the desired template and hit "edit".
Here you can make changes to all payment information. Delete all templates that you don't need anymore.
With SEPA-Transfer, we offer a flexible and easy-to-usage tool for your SEPA payment. Try it out yourself with our 30-days trial for SEPA-Transfer.